Given the well-documented disparities in access to assessment, diagnosis, and high-quality services for Black autistic individuals, Autism clinicians have a duty to educate themselves about the intersection of anti-Black racism and autism services. Many clinicians wonder what they can do to address anti-Black racism in their settings. Here are some concrete recommendations and resources.
This page was adapted from our open-access (free) paper published in the journal Autism. You can access the paper here:
https://journals.sagepub.com/doi/full/10.1177/13623613211043643
This page is maintained by Diondra Straiton and Aksheya Sridhar; please email us if you have a resource that you recommend adding to this page.
Recommendations for Anti-Racist Clinical Practice
Include and amplify Black autistic voices in advisory committees at your organization.
Continuously learn and acknowledge the ways in which your discipline perpetuates anti-Black racism.
Recognize that cultural humility is a lifelong process and take actionable steps towards increasing your cultural humility.

The resources below can help clinicians build their cultural humility.

Be mindful of the complex pathway (picture below) that Black families must navigate to access and utilize clinical services. Explicitly name instances of racism.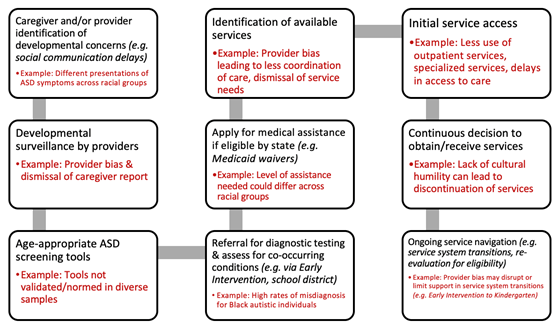 Advocate for system-level changes at your organization and continually assess and refine changes each year.

For examples, please see our paper (above)
Resources
Wright-Constantine Structured Cultural Interview (WCSCI)
The WCSCI is a structured interview tool to help evaluate the cultural context, development, and influences on an individual and is meant to be utilized by trained clinicians in the evaluation of individuals. It is free for use, though it is currently not allowed to be altered or adapted in any way. You can read more about and access the WCSCI here: Wright-Constantine Structured Cultural Interview (WCSCI) | NYU Steinhardt
Wright, A. J., & Constantine, K. (2020). Wright-Constantine Structured Cultural Interview [WCSCI]. New York, NY: New York University.
Collaborative resource for mental health training
https://docs.google.com/document/d/1DJZVfgkz8tBfszdXmBHiiIIvQmY6vlnFveVChMtg94E/edit
Readings:
Online training for clinicians:
Media sources:
Evaluation and goal setting tools:
Cultural competence Self-Evaluation Checklist: http://www.coloradoedinitiative.org/wp-content/uploads/2015/10/cultural-competence-self-assessment-checklist.pdf
Cultural Humility Reflective Journal: https://ready.web.unc.edu/wp-content/uploads/sites/16627/2019/05/Project-READY-Journal_5_15.pdf
Discipline-Specific Resources
Occupational Therapy:
Grenier, M.-L. (2020). Cultural competency and the reproduction of White supremacy in occupational therapy education. Health Education Journal, 79(6), 633–644. https://doi.org/10.1177/0017896920902515
Farias, L., & Simaan, J. (2020). Introduction to the Anti-Racism Virtual Issue of the Journal of Occupational Science. Journal of Occupational Science, 27(s1), 454–459. https://doi.org/10.1080/14427591.2020.1824567
Kronenberg, F. (2020). Commentary on JOS Editorial Board's Anti-Racism Pledge. Journal of Occupational Science, 27(s1), 398–403. https://doi.org/10.1080/14427591.2020.1827483
Beagan, B. L. (2021). Commentary on racism in occupational science. Journal of Occupational Science, 28(3), 410–413. https://doi.org/10.1080/14427591.2020.1833682